<center><iframe width="560" height="315" src="https://www.youtube.com/embed/Ag6LSb87OUw" frameborder="0" allowfullscreen></iframe></center>
A surfer and a scientist teamed up to create the perfect wave
EMOORE, CALIFORNIA—"You should've been here yesterday."
That's a repeated gag line in The Endless Summer, the classic 1966 documentary that follows two globetrotting surfers on a quest to find the perfect wave. Good surfing waves are a rarity, and even when all the forces come together, the magic is fleeting. Few beaches have a bottom contour that can transform a swell into waves that surfers want to ride, and even then, the vagaries of the swell—its size, angle, periodicity—mixed with ever-changing winds and tides mean great surf sessions are few and far between.
In central California farm country, 175 kilometers from the nearest beach, a champion surfer and a fluid mechanics specialist have teamed up to change that. In a 700-meter-long artificial lake, they've devised a system that drags a carefully shaped metal blade called a hydrofoil through the water. As the resulting swell sweeps over the lakebed, which scientists precisely contoured with the help of supercomputers, it is transformed into a surfing wave of unearthly perfection—again and again and again.
Professional surfers, used to the fickle ocean, are astonished by the waves conjured up by Adam Fincham, a researcher at the University of Southern California (USC) in Los Angeles, and Kelly Slater, who has won the world title in surfing an unprecedented 11 times.
Last September, 18 pro surfers came to what's called the Surf Ranch to compete in the Future Classic. The contest was meant to assess whether the pool—which is not open to the public—can serve as a competition venue for the World Surf League's (WSL's) Championship Tour that's staged at top-notch breaks around the world. The mock contest, sponsored by the World Surf League (WSL) that governs professional surfing—and is co-owned by billionaire Dirk Ziff—included judges, announcers, and jumbo screen monitors that featured each wave and slow-motion replays. "The experience they've created for surfers with this wave is second to none," said competitor Adrian Buchan, who is currently ranked 15th on this year's WSL Championship Tour.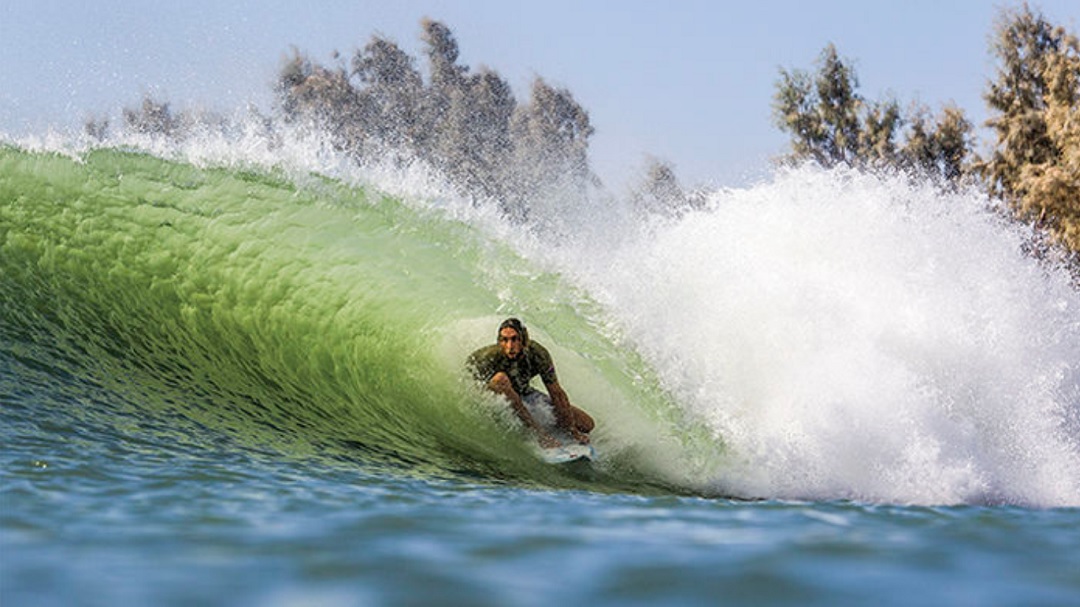 Pro surfer Matt Wilkinson stylishly slotted himself into the barrel of the artificial Surf Ranch wave.    © WSL/SEAN ROWLAND